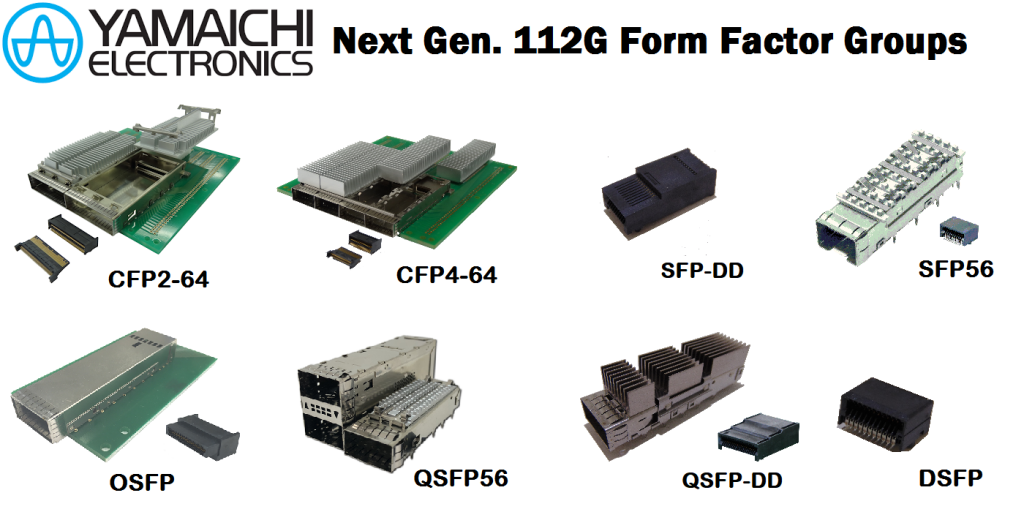 With the increasing demand for higher bandwidth in high-speed front pluggable connector modules, superior SI and thermal performances will become mission-critical, and essentially, the driver for a cost-effective system design.
For the past decade, Yamaichi Electronics has been working toward its goal of becoming a leading supplier of high-speed interconnect, cable assembly, and test fixture products. As such, Yamaichi Electronics has achieved a world-class status as a manufacturer of quality components in the past for telecom infrastructures such as CFP2, CFP4, QSFP112, SFP112, and various high-speed passive copper cable assembly products.
In 2019, to once again demonstrate its dedication to offering the most reliable high-speed connector products and finding innovative solutions to critical design issues, Yamaichi Electronics offers its high-speed connector product lines: QSFP-DD, OSFP112, DSFP, CFP2-64G, CFP4-64G, and CFP8 to customers in High-Speed Telecom market for current 56G and future 112G applications.
About Yamaichi's Next Gen. 112Gbps Connector Products:
– QSFP-DD Connector and Accessories CN174 Series
Designed for supporting 28Gbps NRZ and/or 56Gbps PAM4 modulations for 200G ~ 400G Technology, Yamaichi's QSFP-DD offers 1×1 ~ 1×6 and stacked cage 2×1 configurations and is 100% QSFP-DD MSA compliant.  It has the potential to provide 16.1Tb/s capacity from a single slot switch with 36 QSFP-DD modules.
QSFP-DD's stacked (2xN) configuration normally faces the challenge to dissipate the heat of the high-power module during up surging signal events. Yamaichi offers customized heat sink as part of the solution to address the thermal issue and support 15W/port at stacked cage configuration. Besides, press fit mounting design is commonly used for stacked configuration but also a known challenge for the 112Gbps per lane signaling. Yamaichi's press-fit mount stacked QSFP-DD can overcome the challenge and meet the 112Gbps signaling SI requirements.
– SFP-DD Connector and Accessories CNU109S-040 Series
The SFP-DD connector is capable of signal speed of 50Gbps ~ 112Gbps. It supports 25G-NRZ and 56G-PAM4 modulation, providing solutions up to 112G-PAM4. The double density design offers 2 high-speed lanes and complies to SFP-DD MSA's guidelines. Its physical interface design is backward compatible with current SFP pluggable modules and mates with existing SFP cables, modules and AOC's as well as new SFP-DD interfaces.
–  DSFP Connector and Accessories CN109S Series
Yamaichi has developed CN109S Series to support this new form factor and it is 100% compliant to DSFP MSA design guidelines. It has two TX/RX high speed pin pairs and is capable of 28Gbps (NRZ) or 56Gbbs (PAM4) bit rate/per lane transmission. While maintaining at same mechanical size with SFP28/SFP56, CN109S DSFP connector doubles signal density and has the potential to support up to 112 Gbps/per lane and aggregated speed of 224 Gbps via PAM4.
–  OSFP Connector and Accessories CN176 Series
Designed to support 400 ~ 800GbE Technology, Yamaichi's OSFP has been measured with solid SI performance to support 56G ~ 64Gbaud signals. It is OSFP MSA compliant and offers a wide range of cage variations such as 1×1 and 2×1 stacked type products. Also, other 1xN and Belly-to-Belly configurations are also under development and scheduled to launch later.
–  QSFP28/56 Connector and Accessories CN120 Series
Yamaichi's QSFP28/56 CN120 series supports 25/50/100/200 GbE Interface & Infiniband EDR/FDR/HDR/QDR protocols. Furthermore, CN120 series' QSFP56 connector is capable of 112G application via PAM4 data encoding format. Its connectors and cage accessories follow SFF-8661 (Style-A) and SFF-8672 (Style-B) QSFP+/QSFP28/QSFP56 design guidelines. CN120 series cage products offer single and stacked cage configurations and can be mounted in belly-to-belly style.
–  SFP28/56 Connector and Accessories CN109 Series
Yamaichi's SFP28/56 CN109 series supports SFP+, SFP28, and SFP56 data speed. CN109 series' SFP56 connector is also capable of 112G application via PAM4 format. Its connectors and cage accessories follow SFF-8071 SFP host connector and SFF-8433 SFP cage design guidelines. CN109 series cage products offer single and stacked cage configurations and can be mounted in belly-to-belly style.
–  CFP2-64G & CFP4-64G Connectors and Accessories CN121 Series
Designed to support future Analog Coherent Optics solutions (ACO), Yamaichi Electronics USA has developed CFP2-64G and CFP4-64G connector products. These products can support future demand of 64G-ACO and 112G-ACO channels. These products' designs are 100% compliant to CFP2 and CFP4 MSA design guidelines and share the same mechanical accessories with standard Yamaichi CFP2 and CFP4 product lines.
–  CFP8 Connectors and Accessories CN168 Series
Compliant with CFP-MSA CFP8 Design, Yamaichi's CFP8 product line CN168 series works at 400GbEthernet 400GAUI-8 & 400GAUI-16 electrical signal. It can perform at 28GBaud signal (28G-NRZ & 56G-PAM4) and future 56GBaud signal 100G-PAM4 x 16ch (1.6Tb). Besides single port and dual-port configurations, it also supports Belly-to-Belly Mount design.