AUTOMOTIVE CONNECTORS HIGHLIGHTS 2023
Our key Automotive products consist of the Y-HDE Ethernet, Camera Module, M.2, Floating Board to Board, Battery, FAKRA, and mini-FAKRA Connectors.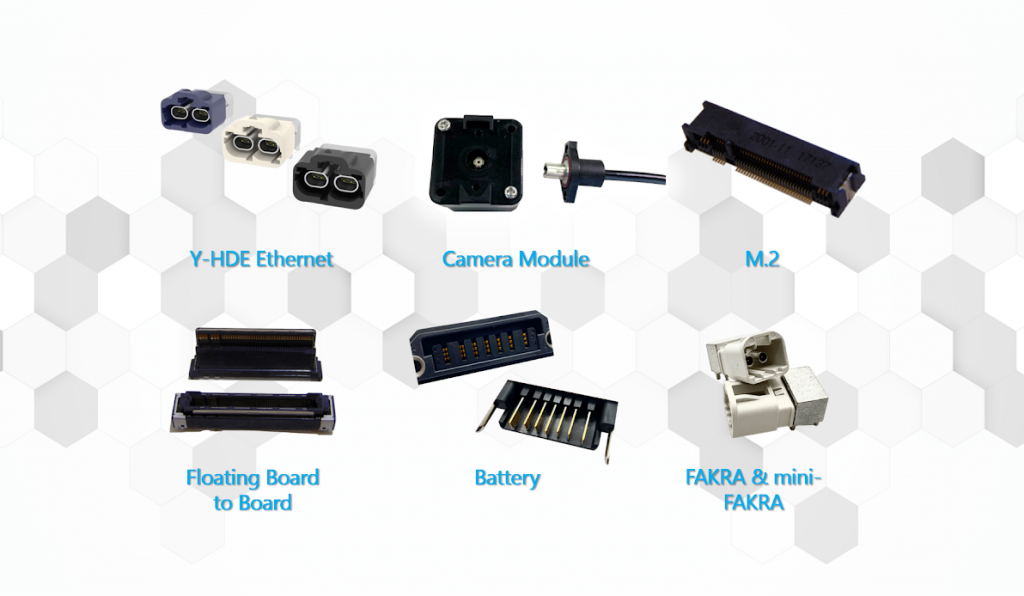 Y-HDE Ethernet Connectors
Yamaichi Electronics has designed its Y-HDE series to support high-speed gigabit Ethernet interface for next generation Automotive Network Systems. Using our extensive experience in high-speed interconnect solutions, Yamaichi has created the Y-HDE series to meet a multitude of Ethernet speed formats ranging from 100BASE-T1 to Multi-Gigabit network. In addition, Y-HDE connectors are capable of 10Gbps and/or higher transmission speed. Our connectors can operate in high temperature environments of up to 105℃ and come in a variety of configurations such as single (1×1), Dual (1×2), and Quad (2×2) port. They are also designed with color-coded key jackets to ensure fool-proof easy assembly process
Camera Module Connectors
The Camera Module connectors are available in two key configurations: Coaxial Type (HC001 Series) and Differential Wire-to-Board Type (HC004 Series). These connectors are designed for rear, front, & side camera connections and offer minimized mating tolerance while keeping a secure connection through its lock screw design. Each connector is designed to have a simplistic structure, easy assembly process, and IP69K rated protection. By minimizing the body size of the host side connectors, Yamaichi can achieve the most compact design on the market.
M.2 Connectors
In next generation self-driving vehicles, ADAS and Infotainment systems require wireless communication and instant data processing capability. Many device designers adapt M.2. module card to support onboard Wi-Fi, Bluetooth, SSD memory, and other functions. Our M.2 Series connector (CNU027S-067-2001-VE) is designed, developed, and tested for infotainment systems, industrial/military grade tablets, and many other applications. Initially designed as a custom M.2 module solution, this connector is now part of the CNU027S Series which consists of 67 M.2 high speeds signal pins with the capability to support USB 3.1 Gen2.0 and PCIe Gen4.0. Its 6 power pins (3 on each side) provide the option for high current transmission of 2.5A per pin. Additionally, the 6 POW pins are designed in a U-shape structure to provide enhanced retention force which allows the connector to withstand challenging impact and vibration environments.
Board to Board Connectors
The automotive grade floating board to board connector is part of our HF301 Series and is the ideal solution for infotainment signal usage. This connector has a floating structure that offers mating position tolerance. It can absorb high impact vibrations to provide a secure connection. The HF301 Series has the capability to support PCI express 3.0 & and S-ATA Gen 3.0 signals with transmission speeds of upto 8Gbps. This connector contains 100 signal pins and 4 power pin contacts with the power pins rated upto 5A.
Battery Connectors
Yamaichi's high current battery connectors have a capacity of 20 – 65A per pin. Its robust design has custom guiding pins which makes mating and un-mating a easy. Furthermore, it has a docking interface with a floating structure to accommodate for the mating tolerance. These connectors can mate upto 4,000 times and are the ideal solution for EV or portable battery applications.
FAKRA & mini-FAKRA Connectors
Our FAKRA and mini-FAKRA connectors are USCAR compliant with varying key codes and mounting orientations. The FAKRA is part of our HF106 series, featuring an external antenna and is the ideal solution for high-speed data transmission. The mini-FAKRA is part of our HFU106P Series & Y-MFC Series and supports both 1×2 and 2×2 configurations.
SD & MicroSD Connectors
In addition to our key connectors, we have designed several Automobile Grade SD & Micro SD card connectors specifically for automobile infotainment systems. These connectors can handle tough operating conditions and constant impact from vehicle movement. Additionally, our FAKRA and mini-FAKRA connectors are USCAR compliant with varying key codes and mounting orientations.
---
Yamaichi Electronics is the global market leader in high-speed interconnect and various memory card solutions. Our products are widely used in many markets including General Consumer Electronics, Computing, Communication, Storage, Data Centers, Automotive Infotainment, and many more. Performance, Quality, and Service are the drivers behind Yamaichi Electronics' success over the years.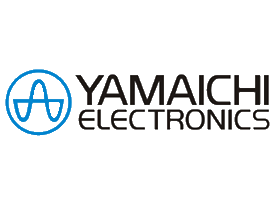 Contact Us:

Jeremy Sheridan | Sales Manager
jeremys@yeu.com
Mobile: +1 (408) 966-1113
Direct: +1 (408) 715-9162